Lifetime licences are back!
Yes, you read that correctly, lifetime licences are back! To find out why, the full details are below, but at a glance, here are the new licensing options::
Yearly subscriptions for 1 or 2 years remain as they are (USD$12.99 and USD$22.99)
A lifetime licence which never requires renewal (USD$72.99)
Upgrade to a lifetime licence at a lower price if you have an existing active subscription
Note that currently lifetime licences and upgrades are only available via Credit Card payments, those wishing to use other payment methods (Transbank, Crypto etc) can contact me at support@retrox.tv to handle those upgrades manually.
Now you can go to the store to get your lifetime licence or upgrade, or you can continue reading the details of this change
How will upgrades work?
If you have an active subscription, you can upgrade at any time, but instead of paying for the full price to get a lifetime licence, your remaining subscription time will be reduced from the total amount. This is how it works: All RetroX subscriptions are around USD$1 per month (yes, that low!), if you purchased a 2 year subscription a few days ago, then you still have 24 months to use it, so you will get a discount of USD$24, that simple. Another example, you have a 2 year subscription but you are in your 4th month, so you still have 20 months remaining, you will get a discount of USD$20.
In the XTV Apps Store, when you choose to upgrade you will be asked for your RetroX account with an active subscription, this will get the details about the expiration date, months remaining, discount and final amount to pay. Note that months are counted as a whole, so less or equal to 31 days is one month. For example, if you still have 5 days before expiration, that's one month, if you have 35 days remaining, that's two months and so on.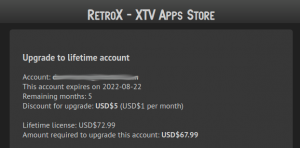 The reasons behind the change
RetroX got its first commercial release in 2015, this was 7 years ago, and apart from new emulators and new features, it has survived several Android updates that have broken many applications, including the emulators and RetroX itself. Today RetroX is quite different from what we had in 2015 and the licensing conditions have been changed accordingly. Until 2019 RetroX had lifetime licences, but I started to see a worrying scenario with similar applications, where many of them started to die because the income generated wasn't enough to fund the constant updates and support required to keep the applications working. A popular belief is that you can create an application one day and keep it selling for many years, but for applications like RetroX this cannot be further from the truth, you need to spend a lot of time and effort to keep it working as the environment – Android, emulators, users – keeps constantly changing. Add to that that RetroX provides some unique features that require monthly funding, like cloud saves, automatic updates, automatic artwork and more.
For all these reasons, I saw that I couldn't risk the future of RetroX, so in 2019 I switched to yearly subscriptions to make sure that RetroX could still be economically viable in the future. I also decided to not add a lifetime licence option because I wasn't able to know in advance if the changes in Android would allow RetroX to be viable on that platform in the future. My window was only 2 years in the future, if a change in Android killed RetroX, they typically take 2 years to rollout the update to everyone. So, for me it wasn't fair to sell a lifetime licence if I wasn't able to make sure that RetroX would exist two years into the future, that's why the maximum subscription time was 2 years.
Android 11 "Storage Apocalypse" changed everything
The story of the change in Android 11 is quite long, but in summary it was a change that came to break all applications that need shared storage access, that includes RetroX and all emulation frontends, even emulators. At some point even LaunchBox decided to stop developing a front end for Android because of this change and other "Android reasons". For some apps, this was the end, you wouldn't be able to load a game on the emulator. For RetroX it wasn't the end, but it came with a lot of problems because the change was just buggy. The new permissions system broke everywhere, even in Android TV you were not able to implement the official solution posted by Google. It was a mess.
This change made me start to plan a departure from Android, so I started to port RetroX for computer systems (Linux first), and this change alone would allow me to stop depending on future changes in Android, but then something unexpected happened: I was able to see how Google and NVidia handled this breaking change, and they did it surprisingly well.
What I didn't expect is that they cared. They helped emulator developers to fix their code to work with Android 11, and Nvidia even released quite quick fixes specially targeted to these applications. Note that this wasn't a quick update, for example the PPSSPP team worked 2 years to have a proper solution, with official support from Google. Fortunately RetroX was "easier" to fix, and the treatment I saw with PPSSPP meant for RetroX a great change on the vision of the future of Android, it gave some assurance that it will be a viable platform for more years to come.
So in summary, the main reasons for this change are:
Google and Nvidia have shown that they can make Android viable for the future of RetroX
Even it they fail, RetroX will be able to continue existing as a Linux application for many years
Many users have requested to have an option for lifetime licences and I always said no because I wasn't able to know how many years in the future RetroX would exist, but now I can say with all confidence that RetroX will be developed for many years to come.